Headphones and earphones
Whether you want to follow your daily journeys along the way, or to offer a high-end Hi-Fi installation with a small footprint, or to make you vibrate to the rhythm of your sporting strides, you will find in this section our selection of headphones and earphones.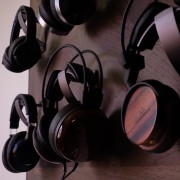 Subcategories
Some accessories are here available for your headphones and earphones. Preamp headphones and other media are all practical or qualitative solutions to enhance your listening experience.

Discover on this page our selection of headphone. Whether open, closed, monitoring, for home, outdoor or sports, we have selected models tailored to your needs.

With the emergence of wireless earphones, and the ever-increasing consumption of mobile music, earphones can have a real impact on the comfortable and qualitative aspect of your listening. In the same way as for helmets, there are all kinds and you will find in this part our selection of the best models in our catalog. Whether for sport, transport or home, your happiness is hidden here.